Would Mentoring Aspiring Young Entrepreneurs For
TWO Hours A Month

Light Your Fire?
What Is The Young Entrepreneur Movement?
#1 Curriculum In The World For Young People Who Want To Become Entrepreneurs
#1 Community In The World For Young People Who Want To Become Entrepreneurs
#1 Talent Pool In The World Of Young, Motivated, And Disciplined Entrepreneurial People
A Letter From Jared Yellin, Co-Founder of CILA Labs
And The Young Entrepreneur Movement
Hello Potential Mentor,
First and foremost, thank you for your interest and thank you for recognizing the power within our FORCE FOR GOOD.

What if YEM works…


1,000,000 Young Entrepreneurs inside of a curriculum, inside of a community, inside of a machine that will help bring their ideas to life OR provide the most exciting job opportunities on the planet.


I know this is bold, but I do believe that this outcome will change the world forever…


We NEED free-thinkers.
We NEED the next generation to value FREEDOM…
We NEED young people to emerge and take full responsibility for their lives…


And these NEEDS will be met and surpassed with the Young Entrepreneur Movement.


This is where you can hopefully support…


We are looking for MENTORS who are able/willing to commit 2-hours a month to support our Young Entrepreneurs…

Our baseline request is that you will host TWO Livestream Q&A Sessions with a facilitator for 1-hour sessions each month.
Here's how we explain the MENTORS to our Young Entrepreneurs...
We already have an EXTRAORDINARY group of mentors who commit at least 2/hours a month to support YEM!
These are all people in the trenches of entrepreneurship and they will be readily available to answer any and all of your questions LIVE!


Each person has been vetted…
Each person has been approved…
Each person has a track record…
Each person is motivated to help!


These mentors are Co-Founders in CILA Labs companies and/or members of the IDEA Squad, which is the business development arm of CILA Labs and/or AMAZING entrepreneurs who are motivated to help!


These sessions have the potential to be your catalyst and we encourage you to take full advantage of this opportunity to get questions answered, practice your pitch, ideate around your idea, and gain the courage to step up and step in to tech entrepreneurship.
We have attracted ROCKSTARS, LEGENDS, and VERY IMPACTFUL people to join the ranks as our mentors and we would LOVE to have you as well.

And just so you know…


We want you aligned with the mission…


But we also want you to recognize this is a GREAT opportunity for you as well…


100,000's Of Young Eyeballs
Immense Sense Of Contribution
Invitation To YEMpalooza
INSANE Affiliate Offer - Like INSANE (equity in tech companies)! Click Here To Learn More


If you are inspired and excited then we would love to have you take the next step and apply to become a mentor for YEM. We want the best of the best and if this is you - then APPLY APPLY APPLY!
Thank you for your interest, desire, and commitment to YEM - I am looking forward to potentially partnering to make a massive impact in the lives of young people.
Live with Intention,
JY


PS: Keep on reading so that you can fully understand why YEM will change the world...
Young Entrepreneurs Get The Following In YEM (Lifetime Access)
Core YEM Curriculum
Online Community For All Members
Training From YEM Faculty (8/9 Figure Entrepreneurs)
Annual YEMpalooza
Special Invitations To INSANE Private Experiences
Weekly Mentorship Sessions With Entrepreneurs In The Trenches
Chance To Pitch Your BIG TECH Idea To CILA Labs
Opportunity To Operate Someone Else's Big Tech Idea
And Many Many Many Many More To Come!
Meet CILA Labs,
The Most Vertically Integrated

Company In The World
We have a big, bold, and audacious mission that is also a non-negotiable for CILA Labs and all of our partners…
10,000 Tech Companies By 2031!


We are more than a technology incubator.


We BUILD your ideas by becoming your Co-Founder…


AND, we do this AT COST!


YES, everything is at cost including Software Development, Go-To-Market, Sales, Customer Support, Branding, Legal, Finances, Administration, etc.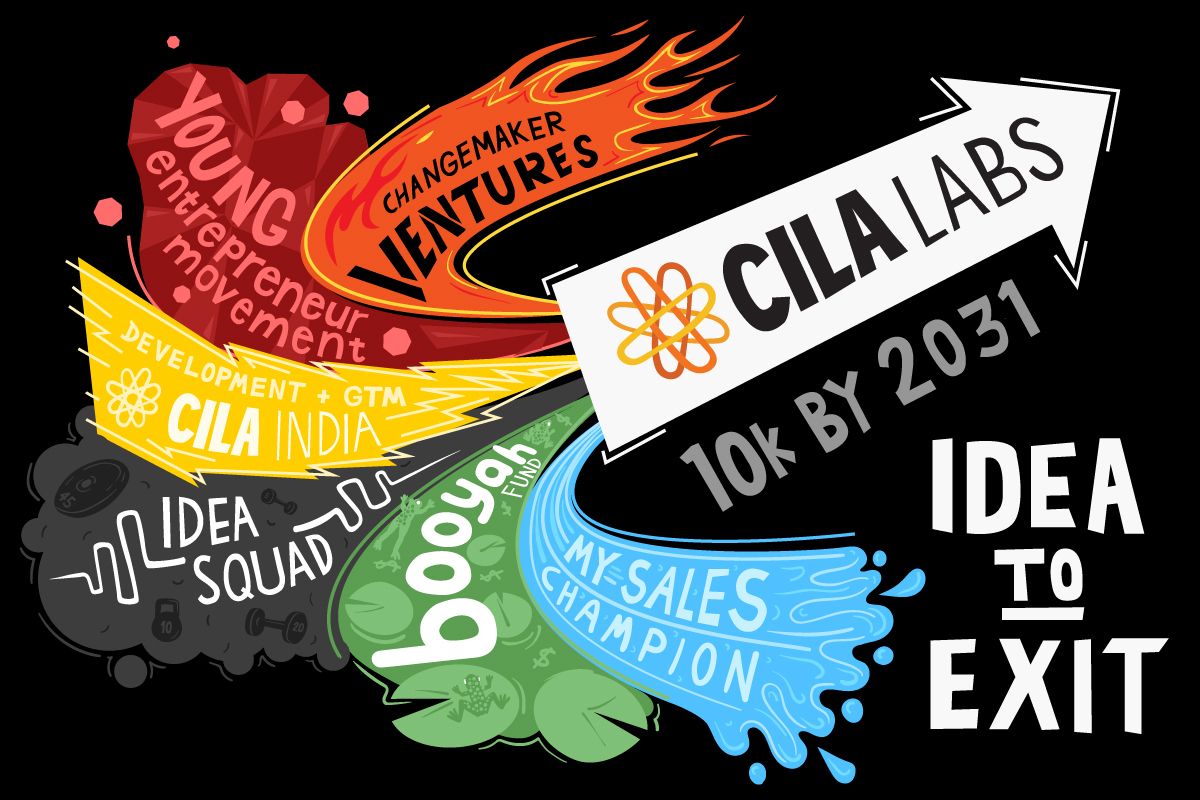 We also own an Angel Investor Network and a Crowdfunding Platform so funding is never an issue for great ideas.
And most importantly…


We are IN IT to WIN IT with you so that you are not trying to build, scale, and sell your big idea on your own, but instead...we are doing it TOGETHER!


Do you want a REAL technology team and a business partner with a proven track record?


If yes, CILA, CILA, CILA!
When A
YOUNG PERSON

Comes Up With A BIG IDEA They Will Automatically Experience The CILA Method
CREATE
Phase One of the CILA Method is extremely exciting for everyone involved because this is where we act like everything is possible and we document every detail that comes to mind for the product that we are about to build. Make sure to come to this phase with zero limitations and a world filled with endless opportunities. Plus, we have specific questions we will pose in order to stimulate creativity while leading us into the second phase of innovation.
INNOVATE
We are now going to innovate which means we will have the CILA development team structure a 30-60-90 day plan to build a MVP (Minimum Viable Product). In order to achieve this milestone, we must step into the world of innovation where we begin to simplify the first version of our product in order to deliver on time, get meaningful data, and generate cash flow to fund ongoing development. Phase two is the most critical step in the CILA Method.
LAUNCH
There are not many rules at CILA, but one of the most prominent other than LIVE WITH INTEGRITY is to LAUNCH within 90-days of the first line of code being written. This is absolutely essential so that no product is overdeveloped and this launch fast approach will enable us to collect the appropriate data to see if we are on the right track or if a pivot is needed. Plus, the goal is that by day 120 we are able to continue funding the company through cash flow.
ACCELERATE
We have a core belief at CILA which is rapid acceleration and the most effective way to achieve this outcome is through the deep levels of relationship capital we have established over the years of "doing the right thing." We believe that every business is one relationship away from a positive explosion and we seek to find this relationship as quickly as possible so that we can dramatically accelerate the growth of the new company and product.
CILA Labs Is More Than A Technical
Co-Founder, Rather, A Dream Come
True For Your Tech Idea!
Mobile App
Product Management
Go-To-Market
Branding
Sales
Customer Support
Financials
Legal
Administrative
Creative
Strategic Planning
YES, All Of This Is

Done AT COST

-
We Only Win, When The Company WINS!
Just Take A Look At What These Co-Founders Of Portfolio Companies Have To Say
About CILA Labs
Josh O.
There is nothing like CILA Labs. Yes, I was extremely skeptical to give up equity in my company, but I am telling you right here and right now, you are CRAZY to try and do this on your own. CILA is what EVERY tech idea needs. And one more point, working with CILA is fun. There is no stress and it feels wonderful to have a partner who is really a partner.
Chantelle V.
Co-Founder of Carli.ai
I have been an entrepreneur my entire life and even attempted to launch my own tech companies before. When I learned of CILA Labs I thought it was too good to be true, but it's just TRUE! My experience with this company has changed my life forever. It's also fascinating how CILA is able to work at COST. This gives everyone a chance.
Peggy M.
Co-Founder of Field Pocket
I never saw myself as a Tech Co-Founder until my first call with CILA Labs when they said my idea was 'AMAZING.' That word 'AMAZING' spoke to my soul and when we agreed to partner, I literally saw my dream become a reality. I AM A TECH FOUNDER and you will be too when you work with CILA. If you are on the fence, just say YES!
Please Apply Now To Become A Mentor - We Would LOVE To Learn More About You!
Created with