We Are Proud, Excited, And Ready To Offer You An Opportunity Of A Lifetime Only For Aspiring Young Entrepreneurs Who Yearn For The Greatest Job Opportunity In History...
The #1 Curriculum And #1 Community To Become A Tech Entrepreneur
Everyone Is Meant To Become A Tech Entrepreneur And This Experience Will Help You
Start The Process
"We will launch 10,000 tech companies by 2031 and my hope and desire is that the vast majority of these BIG IDEAS come from the Young Entrepreneur Movement."
Co-Founder of 10X Incubator

Do You Feel Called To Step Into Entrepreneurship OR You Have A Burning Desire Inside To Do Something VERY Big?

If Yes, You Must Say YES To The Young Entrepreneur Movement RIGHT NOW!
Everything Is Only $97 With Lifetime Access*
*100% Money Back Guarantee Within 30-Days From Purchase If You Feel Like YEM Was A Mistake.
What Is The Young Entrepreneur Movement?
#1 Curriculum In The World For Young People Who Want To Become Entrepreneurs
#1 Community In The World For Young People Who Want To Become Entrepreneurs
#1 Talent Pool In The World Of Young, Motivated, And Disciplined Entrepreneurial People
First off, congratulations for even being here!
My name is Jared Yellin and I am the Co-Founder of 10X Incubator and a Lead Guide for the Young Entrepreneur Movement. You have probably not heard of 10X Incubator yet, but I promise you will and in a VERY big way.

Joining the Young Entrepreneur Movement is just different…
Different than ANY course you purchase…
Different than ANY class you take…
Different than ANY book you read…
Different than ANY mentor you attract...


And the reason is this…
There Are Three Ways You Can WIN BIG!
Win #1
You Figure Out Your BIG Tech Idea And Potentially Co-Found A Company With 10X Incubator
Win #2
You Don't Figure Out Your BIG Tech Idea And Step Into The Entrepreneur In Residence Track Which Means You Become An Operator In Someone Else's Big Tech Idea
Win #3
You Rise To The Top Of The Movement And As A Result 10X Incubator Hires You Because We Are ALWAYS Hiring Great Talent
YEM is NOT just a learning experience…
although it's the BEST learning experience to help you find your BIG TECH IDEA.
YEM is NOT just another entrepreneurial community...
although it's the BEST entrepreneurial community for young peopl
e
.


YEM is unlike anything else you can find
because it's a pathway to either launch your own tech company or to operate someone else's tech company regardless of your age, regardless of your track record, regardless of prior experience…
This is a JOB OPPORTUNITY that is more than a job, rather a career, which is built on a foundation of limitless scale, unlimited financial upside, insane levels of personal and professional growth, and the most fun you will ever have.


For the right YOUNG PERSON - this is a DREAM COME TRUE which is why we offer a 100% Money Back Guarantee within 30-days of joining us.


And regardless of whether you launch your own company OR operate someone else's company, you will step inside the most powerful organization that exists today…


10X Incubator...


10X Incubator is poised to launch 10,000 tech companies by 2031 as a result of partnering with people like YOU…


People who see an inefficiency in life or business…


People who understand what they wish they can do, but currently can't…


People who can communicate their optimal solution…


People who feel called to do something extremely meaningful in their life…


How do you feel right now?
If You Feel Motivated...If You Feel Called...If You Feel Ready...Join US!
"I am willing to sit in a space of discomfort…
Filled with the unknown…
A space where growth is inevitable…
For better or for worse…
Because I know most won't."
- Jared Yellin
*100% Money Back Guarantee Within 30-Days From Purchase If You Feel Like YEM Was A Mistake.
Just so you know, this experience is guaranteed to change your life, and there is NO hype with this statement, it will be life-altering for you!
The people who came together to bring YEM to you have decades and decades of experience WINNING BIG and LOSING EVEN BIGGER. What you will learn once you join us cannot be captured in words so either trust your gut and just SAY YES or watch from the sidelines as your peers transform their dream into a meaningful reality.
Here's what your LIFETIME ACCESS will grant you:
Core YEM Curriculum
Online Community For All Members
Training From YEM Faculty (8/9 Figure Entrepreneurs)
Annual YEMpalooza
Special Invitations To INSANE Private Experiences
Weekly Mentorship Sessions With Entrepreneurs In The Trenches
Chance To Pitch Your BIG TECH Idea To 10X Incubator
Opportunity To Operate Someone Else's Big Tech Idea
Take A Look At The Core YEM Curriculum
Module 1 - What Is HaveItAllPreneurship?
This module will lay a foundation to the type of Entrepreneurship which becomes your conduit to experience high levels of freedom. Most people think entrepreneurship is riddled with pain, defeat, the unknown, and a whole variety of undesirable feelings and emotions, but we are here to explain a different path into entrepreneurship. We also introduce you to your GUIDES on this journey, Jared Yellin, and Eric Nowoslawski, who are in the trenches of launching 10,000 tech companies over the next ten years and they are committed to serving and supporting the millions of young entrepreneurs in our movement.
Module 2 - Inefficiencies Are Everywhere - Let's Find Yours
It's fair to say that 2020 has been the year of exposing more inefficiencies than ever before. From COVID impacting every person on the planet, unemployment rates soaring, dramatic political changes, employees working from home, and industries being demolished with lockdowns, there is more opportunity right here and right now to launch a world-changing tech company than any time in our history. During this module, we are going to discuss all of the different conduits, pockets, and access points for inefficiencies that exist for people and businesses. This is going to be such a fun session because you are going to realize that inefficiencies are literally everywhere! Solving an inefficiency within an industry, community, or even the world is legacy-creating work due to the impact it will make and the economic output it will produce.
Module 3 - Transform Your Big IDEA Into A Meaningful SOLUTION
During this module, you are going to learn how to crystalize your idea with Eric Nowoslawski, Chief of Product for 10X Incubator Eric's ability to transform a big IDEA into a meaningful SOLUTION is uncanny and he will reverse engineer how he does this so that YOU can deploy this proven process within your own BIG IDEA. The clearer you can get, the greater the chance that 10X Incubator will say YES to partnering with you. "Engineers really struggle with BIG IDEAS because they are more often than not elusive, esoteric, and abstract, but when that BIG IDEA becomes a series of use-cases (aka A SOLUTION) magic happens and I am committed to making a TON of magic happen in my lifetime." -Jared Yellin
Module 4 - Prepare Your Pitch To Attract ROCKSTARS To Your Team
During this module, you will see exactly what we need at 10X Incubator in order to understand your idea and determine if we are meant to partner with you to launch a tech company together. We will also give you a templated pitch deck to complete with your pitch and once it's ready, we are ready to hear the pitch. Whether you work with 10X Incubator or not, this module is game changing because you will gain the confidence to boldly declare what you will do in the world which is required to attract the right people who will support your mission.
Module 5 - Now That You Have A BIG IDEA, Here's Your 30-Day Action Plan
Most people sit on their BIG IDEA for years or even a lifetime. Did you know that the vast majority of life-altering ideas reside in the graveyard because people are either too afraid to take action OR they simply don't have any idea what to do? This breaks our heart and we are committed to catching 10,000 ideas in the next 10 years before they die with the beholder. During this module, we will share EXACTLY what you need to do for the next 30-days now that your BIG IDEA is clear and ready for you to take MASSIVE action. This module will set you in motion and help you actualize what you are destined to create in the world.​"I know this statement is bold, but I also know if you are RIGHT for this experience you will appreciate my certainty. This 4-week bootcamp is EXACTLY what you need. Join us and never look back." -Jared Yellin
Module 6 - Now What?
This is a very exciting point for every YEMmer because you have arrived in a place where you have a… NOW WHAT?! Will it be your BIG tech idea, or will it be you stepping to an OPERATOR role at a portfolio company, or will it be joining the 10X Incubator family as a member of the team. The KEY takeaway in this module will be to become MEMORABLE in our movement for the right reasons and you will learn exactly what that means once you complete this section. All we know is this...GET READY!
This Is An Opportunity That You Can't Afford To Miss If You See Yourself As An Entrepreneur!
"Everyone has THEIR MOMENT…
THEIR MOMENT to shine.


THEIR MOMENT to make a difference.


THEIR MOMENT to create financial abundance.


THEIR MOMENT to have it all.


But most people are NOT AWARE of THEIR MOMENT.

Don't be most people."
- Jared Yellin
We Are Building The Most Powerful, Mission-Driven, And Committed Movement Of Young Entrepreneurs On The Planet And You Are Meant To Join Us!
*100% Money Back Guarantee Within 30-Days From Purchase If You Feel Like YEM Was A Mistake.
The YEM Fund
YEM is 100% a force for good and the $97 lifetime fee is part of that FORCE FOR GOOD!
What we mean by this statement is that 100% of the profit (about $80/young entrepreneur) is placed inside of a YEM Fund in order to invest in ideas from members of the Young Entrepreneur Movement.
Our mission is to have 1,000,000 young entrepreneurs in the movement which would mean that $80,000,000 is available to fund 1,000s of new companies that are born from our efforts.
"We will eliminate EVERY barrier to entry for young entrepreneurs who are ready to launch their tech company."
-Jared Yellin
The YEM Community Is
INSANE
!
Imagine a community filled with young aspiring entrepreneurs AND people who have been there and done it. WOWZA!
Well, that's the YEM Community and you are going to have your mind blown once you get inside. Picture this like the NEWSFEED of Facebook or LINKEDIN, but specific to what we are doing together…
LAUNCHING TECH COMPANIES
Or
OPERATING TECH COMPANIES!


Plus, all of our Guides, Faculty, and Mentors are inside of this community as well, so if you want to get their attention, be positively active, deliver immense value, showcase your maturity, and never give up. These qualities will be rewarded and you will make connections that radically transform your life.


PLUS…
COLLABORATE
COLLABORATE
COLLABORATE!!!


YES, meet other young aspiring entrepreneurs from around the world and come up with BIG TECH IDEAS together!


Maybe you will meet a Co-Founder!
Maybe you will meet an Advisor!
Maybe you will meet an Investor!


All that we can say is this…


The YEM Community Is INSANE!
You Will Learn From Two Of The Most Impactful People In All Of Tech!
Jared Yellin
Non-technical tech founder who found a way to scale his original tech company with ZERO dollars invested to over 40,000 paying users from around the world declared a moonshot in April of 2020. "I will build, scale, and sell 10,000 tech companies in 10 years." This moonshot has been heard far and wide as some of the most influential people in the tech industry are yearning to play a role. 10X Incubator will democratize the tech industry by creating an even playing field for all.
Eric Nowoslawski
Eric Nowoslawski is the VP of Growth of 10X Incubator. His flame work is anytime he is able to help a company 10x their idea by going from a napkin concept to a cash flowing vision.
Early in Eric's life, his parents put a heavy emphasis on learning and adventure that he takes with him to this day. Eric has seen, hiked, and ate his way through every contiguous state of the US lower 48 all before he was 18. He was heavily engaged in sports his entire life from pole vaulting, Ironman races, and CrossFit.


Eric solidified his love for business initiation and growth while working at the Gateway Regional Chamber of Commerce where he helped hundreds of businesses form strategic partnerships, increase their sales, and increase their visibility.
Eric is a firm believer in building networks and adding value to every relationship he can. If you're reading this, don't be afraid to find him on LinkedIn! His name certainly makes him easy to find!
Plus Our Growing List Of Faculty Is Absolutely UNREAL On Every Level
Yanik Silver
Founder of Maverick
Rick Sapio
Founder of Business Finishing School
Jack Canfield
Founder of Chicken Soup For The Soul
Jonathan Shambroom
6x Tech Entrepreneur Exitor
Dr. Ben Lerner
CFO Of CILA Labs
Luke Iorio
Former President of iPEC Coaching
Eric Neuner
Founder of Health Coach Institute
Samit Patel
Crowdfunding Expert
Chris Nagy
Founder of Iron Buffett
Brad Sugars
Founder of ActionCoach
Dr. Ivan Misner
Founder of BNI
Greg Vogel
Giver, Philanthropist, Investor, Chief Visionary Officer
Garrett Gunderson
Founder of Wealth Factory
Arron Chambers
Co-Founder of the Connect Leadership Network
Michael Neil
Founder of MJ Neil Consulting, LLC and Amplivate.us
And Many Many Many Many More To Come!
Flick Away Any Doubt, Any Fear, Any Limitation That Currently Stands In Your Way And Just Say YES!
"Even when everything in the world feels like it's crumbling, innovation will always prevail because innovation is always the solution and technology is the easiest place to innovate."
- Jared Yellin
*100% Money Back Guarantee Within 30-Days From Purchase If You Feel Like YEM Was A Mistake.
Annual YEMpalooza
We are not sure about you, but we LOVE to have a REALLY good time with like-minded, mission driven, passionate people, who feel called to transform the world.
And there is no better way to do this than IN-PERSON at what we call…


YEMpalooza!


This experience is NOT just another event with speakers…


Rather, it's an immersive experience that guarantees to produce tech companies that produce $1,000,000's of business and impact.


YES, your guides will be here!
YES, your faculty will be here!
YES, your mentors will be here!
YES, you will be here too, but invites are ONLY for members of our movement and this invitation ALONE is something you CAN'T afford to miss.


Dates, Times, and Locations will be announced as we get closer to the experience.**
**Additional fees will apply but you can qualify for a FREE ticket based on specific criteria that will be announced prior to the live event.
With All Due Respect, What Are You Waiting For?
"Declare your outcome
AND
Stop negotiating with yourself!"
- Jared Yellin
*100% Money Back Guarantee Within 30-Days From Purchase If You Feel Like YEM Was A Mistake.
Weekly Mentorship Sessions With Tech
Entrepreneurs

In The Trenches

We have an EXTRAORDINARY group of mentors who commit at least 2 hours a month to support YEM!

These are all people in the trenches of entrepreneurship and they will be readily available to answer any and all of your questions LIVE!



Each person has been vetted…

Each person has been approved…

Each person has a track record…

Each person is motivated to help!



These mentors are Co-Founders in 10X Incubator companies and/or members of the IDEA Squad, which is the business development arm of 10X Incubator and/or AMAZING entrepreneurs who are motivated to help!



These sessions have the potential to be your catalyst and we encourage you to take full advantage of this opportunity to get questions answered, practice your pitch, ideate around your idea, and gain the courage to step up and step in to tech entrepreneurship.
Chance To
Pitch Your BIG TECH Idea

To 10X Incubator

This is why YEM is NOT just another course, training, or experience that teaches you what to do and then watches you fail.


Listen…


Succeeding as an entrepreneur is close to impossible.

Succeeding as a tech entrepreneur IS impossible!



We call technology the BERMUDA TRIANGLE because the vast vast vast majority of people who attempt, don't come out alive.

And the pain is financial, emotional, and even sometimes physical because of the level of commitment needed to even begin the process.



BUT!!!



Your experience will be EXTREMELY different because if you come up with a BIG TECH IDEA, you will have the opportunity to PITCH 10X Incubator and IF we see potential with your idea, we will invite you to Co-Found a company with us…



And when we Co-Found a company with you…



There will be ZERO pain…

There will be ZERO unnecessary stress…

There will be ZERO uncertainty…



And the reason for this is because…



We KNOW what to do and we will set you up for success.



BUT, you will have to work…



Yup, work VERY hard but also VERY smart by staying in your FLAME, which is what YOU are uniquely qualified to do.

And just for the record, take a look at this...
Top Six Reasons Why Nearly Every Tech Company FAILS…

Reason 1:
Too Much Technology Debt
Reason 2: Absence of Forever Go-To-Market
Reason 3: Inability To Scale
Reason 4: Lack of Capital
Reason 5: Wrong Team
Reason 6: Zero Exit Strategy


10X Incubator takes 100% responsible for these 6 potential pitfalls so that your experience as a Tech Entrepreneur is only FUN and hard work...not...impossible work!
Opportunity To
Operate Someone Else's

Big Tech Idea

Don't worry if you CAN'T come up with a BIG TECH IDEA!

You can't force this…

You can't will this…

You can't pray for this…



It will come to you when it's meant to come to you, but that DOES NOT mean you need to slave away as a number inside of a big company.



NOT AT ALL!



Instead, you will have the opportunity to apply for our Entrepreneur In Residence Program at 10X Incubator.

This is BEYOND cool and such an AMAZING experience for the RIGHT person…



10X Incubator has a VAST network of very successful 8/9 figure entrepreneurs who have been there and done it AND they are certain they don't want to operate any additional companies...BUT!



They have MORE ideas TODAY than ever before!



This is where you potentially come in…



These entrepreneurs are submitting their ideas to 10X Incubator for consideration and if/when we say YES to Co-Founding a company with one of these people, YOU will then have the opportunity to become the OPERATOR!
OPERATOR BENEFITS:

Mentorship From The 8/9 Figure Entrepreneur
Infrastructure and Mentorship from 10X Incubator
Salary and Benefits
Equity Earned Based On Hitting Attainable KPI's
The greatest 3-5 years of your young life


Operators will be in a position that potentially sets up their entire life if they perform and we are committed to helping you WIN...REALLY BIG...if this path is the RIGHT path for you!
We Want You...PERIOD! Say YES, Say YES, Say YES to YEM!!!
"Declare your outcome
AND
Stop negotiating with yourself!"
- Jared Yellin
*100% Money Back Guarantee Within 30-Days From Purchase If You Feel Like YEM Was A Mistake.
Meet 10X Incubator,
The Most Vertically Integrated

Company In The World
We have a big, bold, and audacious mission that is also a non-negotiable for 10X Incubator and all of our partners…
10,000 Tech Companies By 2031!


We are more than a technology incubator.


We BUILD your ideas by becoming your Co-Founder…


AND, we do this AT COST!


YES, everything is at cost including Software Development, Go-To-Market, Sales, Customer Support, Branding, Legal, Finances, Administration, etc.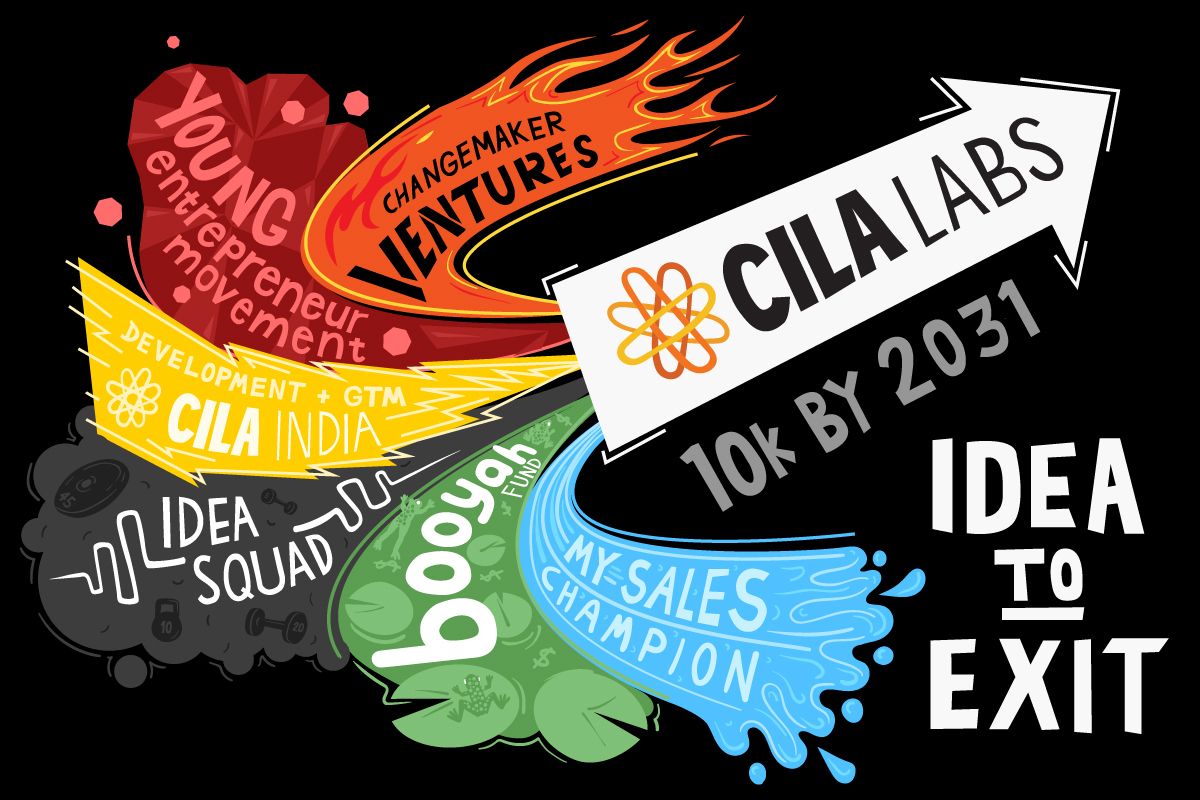 We also own an Angel Investor Network and a Crowdfunding Platform so funding is never an issue for great ideas.
And most importantly…


We are IN IT to WIN IT with you so that you are not trying to build, scale, and sell your big idea on your own, but instead...we are doing it TOGETHER!


Do you want a REAL technology team and a business partner with a proven track record?


If yes, 10X Incubator, 10X Incubator, 10X Incubator!
When You
ARE READY

And Come Up With A BIG IDEA You Will Automatically Experience The 10X Incubator Method
CREATE
Phase One of the 10X Method is extremely exciting for everyone involved because this is where we act like everything is possible and we document every detail that comes to mind for the product that we are about to build. Make sure to come to this phase with zero limitations and a world filled with endless opportunities. Plus, we have specific questions we will pose in order to stimulate creativity while leading us into the second phase of innovation.
INNOVATE
We are now going to innovate which means we will have the 10X development team structure a 30-60-90 day plan to build a MVP (Minimum Viable Product). In order to achieve this milestone, we must step into the world of innovation where we begin to simplify the first version of our product in order to deliver on time, get meaningful data, and generate cash flow to fund ongoing development. Phase two is the most critical step in the 10X Method.
LAUNCH
There are not many rules at 10X, but one of the most prominent other than LIVE WITH INTEGRITY is to LAUNCH within 90-days of the first line of code being written. This is absolutely essential so that no product is overdeveloped and this launch fast approach will enable us to collect the appropriate data to see if we are on the right track or if a pivot is needed. Plus, the goal is that by day 120 we are able to continue funding the company through cash flow.
ACCELERATE
We have a core belief at 10X which is rapid acceleration and the most effective way to achieve this outcome is through the deep levels of relationship capital we have established over the years of "doing the right thing." We believe that every business is one relationship away from a positive explosion and we seek to find this relationship as quickly as possible so that we can dramatically accelerate the growth of the new company and product.
10X Incubator Is More Than A Technical
Co-Founder, Rather, A Dream Come
True For Your Tech Idea!
Mobile App
Product Management
Go-To-Market
Branding
Sales
Customer Support
Financials
Legal
Administrative
Creative
Strategic Planning
YES, All Of This Is

Done AT COST

-
We Only Win, When The Company WINS!
Just Take A Look At What These Co-Founders Of Portfolio Companies Have To Say
About 10X Incubator
Josh O.
There is nothing like 10X Incubator. Yes, I was extremely skeptical to give up equity in my company, but I am telling you right here and right now, you are CRAZY to try and do this on your own. 10X Incubator is what EVERY tech idea needs. And one more point, working with 10X Incubator is fun. There is no stress and it feels wonderful to have a partner who is really a partner.
Chantelle V.
Co-Founder of Carli.ai
I have been an entrepreneur my entire life and even attempted to launch my own tech companies before. When I learned of 10X Incubator Labs I thought it was too good to be true, but it's just TRUE! My experience with this company has changed my life forever. It's also fascinating how 10X Incubator is able to work at COST. This gives everyone a chance.
Peggy M.
Co-Founder of Field Pocket
I never saw myself as a Tech Co-Founder until my first call with 10X Incubator Labs when they said my idea was 'AMAZING.' That word 'AMAZING' spoke to my soul and when we agreed to partner, I literally saw my dream become a reality. I AM A TECH FOUNDER and you will be too when you work with 10X Incubator. If you are on the fence, just say YES!
Are You Beginning To See Why This Is SUCH An
Exciting

And

Life-Altering

Opportunity?
"If you are aware of something that is inefficient in your life or business AND what your absolute ideal outcome is then you are a tech entrepreneur."
- Jared Yellin
*100% Money Back Guarantee Within 30-Days From Purchase If You Feel Like YEM Was A Mistake.
Who Is Perfect For YEM?
YOU
YOU
YOU!!!


YOU are the perfect person for this experience if your heart is racing, you are beginning to sweat, and you are searching for your credit card to sign up because everything about this opportunity is speaking to your soul…


You can't imagine NOT doing this…
You can't fathom PASSING on this opportunity of a lifetime…
You can't WAIT for it to begin!


Here's the deal…


You know whether OR not you are perfect for the experience and if you are perfect, then please make sure this lands…
Don't wait even one second - just join us - get ready - here we go!


But to help you make this decision, here are some of the characteristics of the RIGHT person…
Called To Do Something Big
Wants To Make A Ton OF Money
Driven To Make A Difference
And If You Are Not Already Jumping For Joy...
YEM is a job opportunity...PERIOD!
#1 - Become A Co-Founder
#2 - Become An Operator
#3 - Become Part Of The 10X IncubatorTalent Pool which is HIRING all-of-the-time!


#3 is where most young people will reside and EVERY job opportunity that we offer - will be posted FIRST inside of our YEM Community so that you can apply for this life-altering experience of becoming part of the 10X Incubator Family.


We have needs in the following areas ALL OF THE TIME:


Engineers
Product Managers
Marketing Strategists
Business Development
Customer Support
Copywriting
Graphic Design
Editors
Videography
Digital Marketing
Sales
Operations
Etc. Etc. Etc.


We expect 10X Incubator Labs to eventually have 10,000's of people on our team and you might just be EXACTLY what we are looking for.
So…


What are you waiting for?!?!


This is your PATH to Co-Foundership OR Operator OR Career…
The Time Is Here And The Time Is Now...Will You Join Us?
"When we are pulled to do something that feels so outside of our ordinary it's because our calling is louder than our doubt and our ultimate desire is more powerful than our fear."
- Jared Yellin
*100% Money Back Guarantee Within 30-Days From Purchase If You Feel Like YEM Was A Mistake.
Frequently asked questions
If I come up with a BIG IDEA, will 10X Incubator partner with me?
You will have the opportunity to go through the 10X Incubator idea submission process which is the next step to partner with our company.
What does it mean to become an operator?
10X Incubator has a vast network of 8/9 figure entrepreneurs who have TONS of ideas, but they don't want to operate their new tech companies. This is an opportunity of a lifetime to become an operator of someone else's BIG IDEA and earn a salary and equity based on hitting specific KPI's. Plus, you will get mentorship from the successful entrepreneur and infrastructure and mentorship from 10X Incubator.
How do I get a refund if YEM is not right for me?
Simply email team@youngentrepreneurmovement.com within 30-days from your purchase with a copy of your receipt and we will issue a full refund.
What if I am unable to attend the sessions live?
Each session is archived and will be posted within 24-hours for you to watch for a first time or multiple times.
Will we get access to the replays?
Yes, you will have lifetime access to this program.
What if I have questions throughout the experience?
We will have LIVE Q&A sessions, plus you will be part of our community where you can post any questions and the instructors will chime in to offer support.
Will we have access to other members of the program?
YES! In the online community you will be able to collaborate with all of the members.
Created with