What Lesson Would You Like To Share With Your 18-Year-Old Self When You Aspired To Become An Entrepreneur?
What Is The Young Entrepreneur Movement?
#1 Curriculum In The World For Young People Who Want To Become Entrepreneurs
#1 Community In The World For Young People Who Want To Become Entrepreneurs
#1 Talent Pool In The World Of Young, Motivated, And Disciplined Entrepreneurial People
A Letter From Jared Yellin, Co-Founder of 10X Incubator
And The Young Entrepreneur Movement
Hello Potential Faculty,
First and foremost, thank you for your interest and thank you for recognizing the power within our FORCE FOR GOOD.

What if YEM works…


1,000,000 Young Entrepreneurs inside of a curriculum, inside of a community, inside of a machine that will help bring their ideas to life OR provide the most exciting job opportunities on the planet.


I know this is bold, but I do believe that this outcome will change the world forever…


We NEED free-thinkers.
We NEED the next generation to value FREEDOM…
We NEED young people to emerge and take full responsibility for their lives…


And these NEEDS will be met and surpassed with the Young Entrepreneur Movement.


This is where you can hopefully support…


We are looking for FACULTY who have been there and done it…


They walk their talk…
They have achieved high levels of success…
They have a place in their heart for young entrepreneurs…
They really care about making a positive difference AND a ton of money…
Our ASK of the YEM Faculty is the following…
One module or many modules that teach critical skills to young aspiring entrepreneurs.
Access to your content for free and an understanding there will not be compensation for the submission of this content.
Your content is not a sales presentation, but rather a lecture and actionable training.
You must be authentic which means you are teaching something you have done and experienced.
Ultimately, your goal is to speak with your 18-year-old self and share the most important lessons you wish you knew.

We have attracted ROCKSTARS, LEGENDS, and VERY IMPACTFUL people to join the ranks as our Faculty and we would LOVE to have you as well.


And just so you know…


We want you aligned with the mission…


But we also want you to recognize this is a GREAT opportunity for you as well…


100,000's Of Young Eyeballs
Immense Sense Of Contribution
Invitation To YEMpalooza
INSANE Affiliate Offer - Like INSANE (equity in tech companies)!

Cli

ck

Here To Learn More

If you are inspired and excited then we would love to have you take the next step and apply to become a faculty member of YEM. We want the best of the best and if this is you - then APPLY APPLY APPLY!
Thank you for your interest, desire, and commitment to YEM - I am looking forward to potentially partnering to make a massive impact in the lives of young people.
Live with Intention,
JY


PS: Keep on reading so that you can fully understand why YEM will change the world...
Young Entrepreneurs Get The Following In YEM (Lifetime Access)
Core YEM Curriculum
Online Community For All Members
Training From YEM Faculty (8/9 Figure Entrepreneurs)
Annual YEMpalooza
Special Invitations To INSANE Private Experiences
Weekly Mentorship Sessions With Entrepreneurs In The Trenches
Chance To Pitch Your BIG TECH Idea To 10X Incubator
Opportunity To Operate Someone Else's Big Tech Idea
You Will Learn From Two Of The Most Impactful People In All Of Tech!
Jared Yellin
Jared has a number of life-altering companies including SYNDUIT, the first marketing platform with content for your industry that is currently supporting over 40,000 small businesses from around the world. In addition, Jared co-founded of 10X Incubator which is a technology incubator that builds technological ideas with and for non-tech entrepreneurs AT COST and then focuses on massive acceleration and positive disruption. Jared also launched ChangeMaker Ventures, an Angel Investor Network that has over 100 members and climbing. He is a father to two beautiful children, Taylee and Ryker, and he has committed his life to doing whatever possible to create more freedom with his kids and his beautiful wife, Lindsay. Jared is currently on a mission to help 10,0000 non-tech entrepreneurs build their technical ideas so that together industries, communities and the world change for the better.
Eric Nowoslawski
Eric Nowoslawski is the Chief of Product of 10X Incubator. His flame work is anytime he is able to help a company 20x their idea by going from a napkin concept to a cash flowing vision.
Early in Eric's life, his parents put a heavy emphasis on learning and adventure that he takes with him to this day. Eric has seen, hiked, and ate his way through every contiguous state of the US lower 48 all before he was 18. He was heavily engaged in sports his entire life from pole vaulting, Ironman races, and CrossFit.


Eric solidified his love for business initiation and growth while working at the Gateway Regional Chamber of Commerce where he helped hundreds of businesses form strategic partnerships, increase their sales, and increase their visibility.
Eric is a firm believer in building networks and adding value to every relationship he can. If you're reading this, don't be afraid to find him on LinkedIn! His name certainly makes him easy to find!
Plus Our Growing List Of Faculty Is Absolutely UNREAL On Every Level
Yanik Silver
Founder of Maverick
Rick Sapio
Founder of Business Finishing School
Jack Canfield
Founder of Chicken Soup For The Soul
Jonathan Shambroom
6x Tech Entrepreneur Exitor
Dr. Ben Lerner
CFO Of 10X Incubator
Luke Iorio
Former President of iPEC Coaching
Eric Neuner
Founder of Health Coach Institute
Samit Patel
Crowdfunding Expert
Chris Nagy
Founder of Iron Buffett
Brad Sugars
Founder of ActionCoach
Dr. Ivan Misner
Founder of BNI
Greg Vogel
Giver, Philanthropist, Investor, Chief Visionary Officer
Garrett Gunderson
Founder of Wealth Factory
Arron Chambers
Co-Founder of the Connect Leadership Network
Michael Neil
Founder of MJ Neil Consulting, LLC and Amplivate.us
And Many Many Many Many More To Come!
Meet 10X Incubator,
The Most Vertically Integrated

Company In The World
We have a big, bold, and audacious mission that is also a non-negotiable for 10X Incubator and all of our partners…
10,000 Tech Companies By 2031!


We are more than a technology incubator.


We BUILD your ideas by becoming your Co-Founder…


AND, we do this AT COST!


YES, everything is at cost including Software Development, Go-To-Market, Sales, Customer Support, Branding, Legal, Finances, Administration, etc.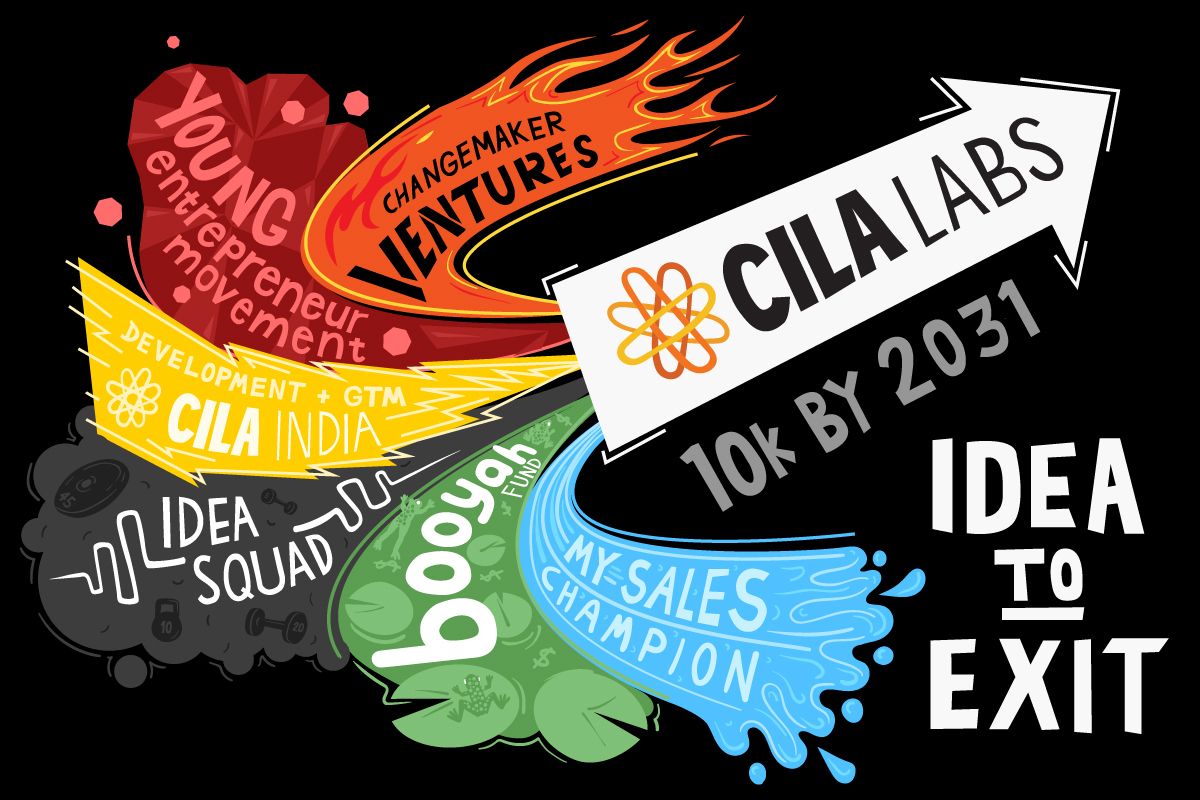 We also own an Angel Investor Network and a Crowdfunding Platform so funding is never an issue for great ideas.
And most importantly…


We are IN IT to WIN IT with you so that you are not trying to build, scale, and sell your big idea on your own, but instead...we are doing it TOGETHER!


Do you want a REAL technology team and a business partner with a proven track record?


If yes, 10X Incubator, 10X Incubator, 10X Incubator!
When A
YOUNG PERSON

Comes Up With A BIG IDEA They Will Automatically Experience The 10X Incubator Method
CREATE
Phase One of the 10X Incubator Method is extremely exciting for everyone involved because this is where we act like everything is possible and we document every detail that comes to mind for the product that we are about to build. Make sure to come to this phase with zero limitations and a world filled with endless opportunities. Plus, we have specific questions we will pose in order to stimulate creativity while leading us into the second phase of innovation.
INNOVATE
We are now going to innovate which means we will have the 10X Incubator development team structure a 30-60-90 day plan to build a MVP (Minimum Viable Product). In order to achieve this milestone, we must step into the world of innovation where we begin to simplify the first version of our product in order to deliver on time, get meaningful data, and generate cash flow to fund ongoing development. Phase two is the most critical step in the 10X Incubator Method.
LAUNCH
There are not many rules at 10X Incubator, but one of the most prominent other than LIVE WITH INTEGRITY is to LAUNCH within 90-days of the first line of code being written. This is absolutely essential so that no product is overdeveloped and this launch fast approach will enable us to collect the appropriate data to see if we are on the right track or if a pivot is needed. Plus, the goal is that by day 120 we are able to continue funding the company through cash flow.
ACCELERATE
We have a core belief at 10X Incubator which is rapid acceleration and the most effective way to achieve this outcome is through the deep levels of relationship capital we have established over the years of "doing the right thing." We believe that every business is one relationship away from a positive explosion and we seek to find this relationship as quickly as possible so that we can dramatically accelerate the growth of the new company and product.
10X Incubator Is More Than A Technical
Co-Founder, Rather, A Dream Come
True For Your Tech Idea!
Mobile App
Product Management
Go-To-Market
Branding
Sales
Customer Support
Financials
Legal
Administrative
Creative
Strategic Planning
YES, All Of This Is

Done AT COST

-
We Only Win, When The Company WINS!
Just Take A Look At What These Co-Founders Of Portfolio Companies Have To Say
About 10X Incubator
Josh O.
There is nothing like 10X Incubator. Yes, I was extremely skeptical to give up equity in my company, but I am telling you right here and right now, you are CRAZY to try and do this on your own. 10X Incubator is what EVERY tech idea needs. And one more point, working with 10X Incubator is fun. There is no stress and it feels wonderful to have a partner who is really a partner.
Chantelle V.
Co-Founder of Carli.ai
I have been an entrepreneur my entire life and even attempted to launch my own tech companies before. When I learned of 10X Incubator I thought it was too good to be true, but it's just TRUE! My experience with this company has changed my life forever. It's also fascinating how 10X Incubator is able to work at COST. This gives everyone a chance.
Peggy M.
Co-Founder of Field Pocket
I never saw myself as a Tech Co-Founder until my first call with 10X Incubator Labs when they said my idea was 'AMAZING.' That word 'AMAZING' spoke to my soul and when we agreed to partner, I literally saw my dream become a reality. I AM A TECH FOUNDER and you will be too when you work with 10X Incubator. If you are on the fence, just say YES!
Please Apply Now To Become A Faculty - We Would LOVE To Learn More About You!
Created with